Press This
Hi! It's been a few weeks since we added our initial brief.
What is it?
Press This is a redesign with a focus on automation and speed.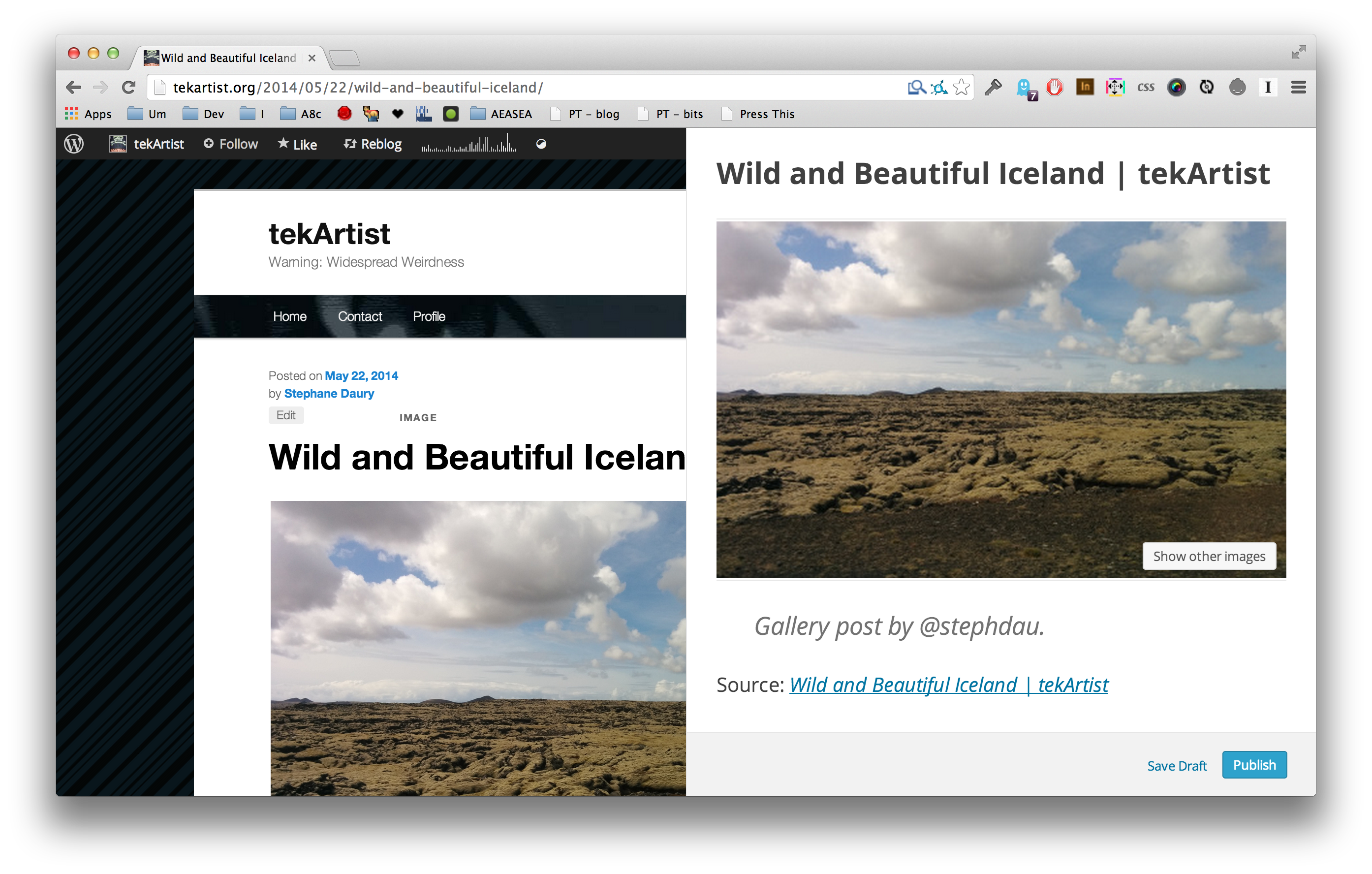 Progress
We now have an alpha public release available for testing. We plan on pushing nightly soon. Beware: there be dragons.
Design elements are starting to fall in place. We are still iterating on placement and behavior of WYSIWYG, modal pop-out, embeds, settings, and Add Media.
Features
Core architecture of the plugin/tools is an as-pure-Javascript app as possible
Currently AJAX driven, but ready to be switched to using the WP-API endpoints as they become available
Is backward compatible with the current version of the Press This bookmarklet as bundled in WP, but also bring its own, more powerful one with it
Can blog any web page found online, blockquoting an excerpt, including a selection of in-page images to choose from. Said images are augmented with meta data to sort them in the order the site advertises to be best
Overrides /wp-admin/press-this.php and its behavior, so that we're 100% backward compatible
Overrides the bookmarklet JS code provided in /wp-admin/tools.php
Quick featured image switching
Saving draft and publishing
Image side-loading
3 modes

Direct access: quick post of sort, more to come with media and formatting tools
Modal: when accessed via new bookmarklet code: will show in an iframe within the visited page itself
Popup: if the currently visited page is SSL but the target install is not, we open Press This in a popup instead. We also do that if the"legacy" bookmarklet code is used. It's pretty awesome for pressing from your sweet smartphone.
Next Steps
Formatting and media upload tools (+editor)
De-selecting a picture (if none wanted)
Embeds
Add header
Add minimal WYSIWYG for tablet and larger
Add Add Media functionality
Add SVG icons 8)
Explore various installation flows
Ultra alpha installation instructions.
Help us make this thing amazing! Feedback and Pull Requests welcome!
Discussion: corepressthis.wordpress.com | Chat: Skype | Weekly Meeting: Wed. 16:00 UTC in #wordpress-ui